Media Release
An exclusive EU wide study shows how long you have to work in 2011 before you can keep your earnings and stop paying the state. Poles have their Tax Freedom Day yesterday; Cypriots had theirs already on 13 March, while Belgians have to wait the longest until 4 August.
Paris, 8 June 2011 – For the second consecutive year, an EU wide calendar of "Tax Freedom Days" for typical workers in each of the 27 EU Member States has been released today. The study is published by New Direction – Foundation for the European Reform and Institut économique Molinari (IEM) with data provided by Ernst & Young. Using one methodology across all EU member countries, with data reflecting the tax reality experienced by real, working people, the study calculates the TAX FREEDOM DAYs for 2011 as follows: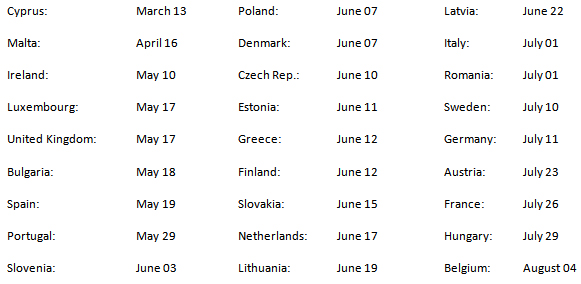 Key findings of the study include:
• Taxes are on the rise in Europe. The average real tax rate for typical EU wage earners Europeans rose by 0.25% in 2011 – primarily a consequence of VAT increases in 13 EU member states since 2009.
• Flat tax policies have offered considerable tax relief to workers – notably in Hungary, where a new 16% rate has pushed that country's tax freedom day forward by 9 days. However, total taxes remain higher in « flat tax » countries (46.4%) than in « progressive » systems (43.3%) – a gap that has widened since 2010.
• 42.8% of all payroll taxes collected in the EU – employer contributions to social security paid on top of gross salaries – are largely invisible to employees.
"Too many governments responded to excessive deficits by increasing taxes instead of reforming and cutting the spending of the state. People are already paying too much, therefore the tax burden should be going down not up," said President of New Direction Geoffrey Van Orden MEP.
"The situation is worrisome. Six of the 27 EU members take more than half of what typical employees earn for social security contributions, income taxes or VAT. And despite this very high level of taxation, deficits continue to rise as never before in Europe," says Cécile Philippe, director of IEM.
Tax Freedom Day is the calendar day on which a worker theoretically stops working to pay taxes to the state and begins to keep his/her earnings. The data in the calendar reflect the reality experienced by real, working people in the European Union and the true cost of hiring employees in each state.
"Many think tanks in Europe are doing excellent work in determining tax freedom days for their countries each year. Given these think tanks' varying formulas, however, it is difficult to compare one study to another. By applying the same methodology to calculate all 27 EU member states, this study offers an 'apples to apples' comparison of the tax burden borne by workers across the continent," explained James Rogers, one of the authors of the study.
The study, written by James Rogers and Cécile Philippe of Institut économique Molinari (Paris), analysed annual salary figures for typical workers from Eurostat. Payroll tax calculations were made by Ernst & Young.
The study and comparison with 2010 is available on our website.
Note to Editors
New Direction – The Foundation for European Reform is a free market think-tank established in Brussels in 2010 to add innovative ideas and encourage reform efforts in Europe. Together with a strong network of partner think tanks around Europe, New Direction will produce original and relevant research papers focusing on the most pressing issues in the area of economic growth, competition, financial regulation, energy security, taxation, agricultural policy, bureaucracy and EU institutional affairs.
The Institut économique Molinari (IEM) is an independent, non-profit research and educational organization based in Paris. Its mission is to promote an economic approach to the study of public policy issues by offering innovative solutions that foster prosperity for all.
For more information please contact the authors of the study:

Cécile Philippe

Director – Institut économique Molinari

cecile@institutmolinari.org

+33 678 869 858

James Rogers

Researcher – Institut économique Molinari

+ 32 497 946 840

or

Shane Frith

Director – New Direction – The Foundation for European Reform

shane.frith@newdirectionfoundation.org

+44 786 779 23 64

Johana Grohová

Communications Manager – New Direction – The Foundation for European Reform

johana.grohova@newdirectionfoundation.org

+32 2 808 7847 or +32 498 125 985